You know how Facebook's "like" buttons, retweet buttons, and various other social sharing buttons can help drive traffic to your site? ShareThis has launched a widget that site owners, particularly ones who put out a lot of content, may find useful for driving traffic and engagement with that content.
Publishers can set the widget to show only articles on the same topics as what's covered by their site, or perhaps more importantly (as far as driving traffic is concerned), only other articles from their own site. Publishers will be able to take advantage of the ShareThis algorithms to have the widget display top trending content from their domain (or popular topics in general if they choose).
"The widget is also useful for readers, as it allows them to find more info on their favorite topics, share it with their friends, and see what else their friends are reading and talking about — all in one place," says ShareThis Community Manager Steve Ragan. It will show readers what their friends are sharing across Facebook, Twitter, and Google Buzz, and they can share content with any of those from the widget as well.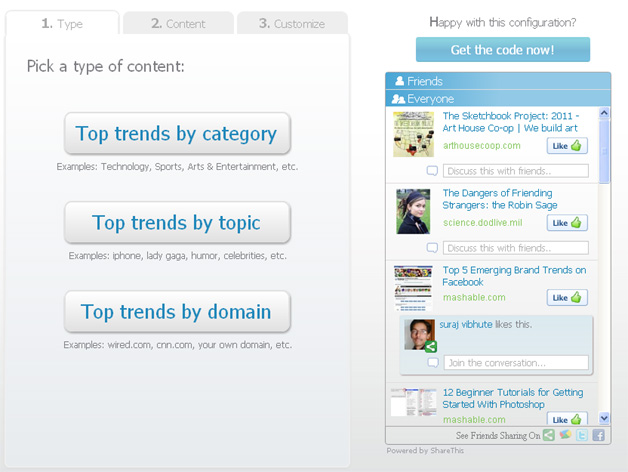 "There's nothing else out there that takes this approach to social sharing, share velocity or trends," says Ragan.
The widget has the potential to be very useful for driving traffic. In some ways it might be more helpful than Facebook's social plugins. The fact that it features not only Facebook, but Twitter and Buzz is one obvious advantage (nobody's saying you should stop using Facebook's stuff too).
The biggest problem I see with the widget is that it is one more thing to clutter up your site. There are so many social, sharing tools out there, it can get to be overkill. If you're already using a bunch of them. It's probably a good idea to evaluate which ones are effective and which are just taking up precious space. That said, this widget might serve as a good replacement or complement to what you've already got.
If you're not a publisher, you might think a tool like this won't help you. All you need to be a publisher is a blog, and there are plenty of reasons why any business can benefit from one of those. Facebook is showing how important content is. We discussed why blogging is more critical than ever here. Perhaps video might work better for you. Google TV is going to make a huge impact on the web. Are you ready for that?