MySpace announced today that it has the most popular social app in the Android Market, and the third most popular app on Android altogether.
"Our deep integration with the Android platform is one of the reasons why we've seen a surge in usage," says MySpace's Scott Goldberg. "Unique to this app, we have three home screen widgets. One of them allows voice-enabled status updates. We also allow users to set MySpace photos as background wallpaper on their phone's home screen. Close integration with the native Android camera contributes to the customized experience and makes it easy for MySpace users to take, upload and share pictures of their friends out having fun."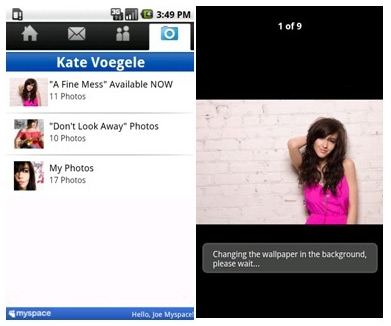 "Even beyond Android, MySpace Mobile has also proven to be a very engaging experience across all platforms with 70% of MySpace Mobile users checking in three or more times per day," adds Goldberg. "As a nod to our popularity on the mobile web, MySpace was the fourth most popular mobile web destination according to Morgan Stanley's report on The Mobile Internet in Dec. 2009. We have also found that the average MySpace Mobile user translates into a more engaged online user, dedicating more than an hour of additional time on the site per month."
Currently, looking at the Android Market's social category, MySpace Mobile is followed by Facebook for Android, Tweetcaster, AIM, and Truth or Dare. The top two most popular apps overall are Pandora and the Weather Channel.
One of the best parts about having the most popular slot in any category in the market is the visibility that comes along with that. Any user who gets a new Android device, and goes to look for apps, will see MySpace Mobile right at the top of the list, and that could could drive continued growth.
Mobile should play a key role in the continued success of MySpace. Meanwhile, Facebook and Twitter are seeing big mobile gains themselves.
Are you surprised that MySpace has the most popular social app on Android? Share your thoughts.