Google is placing a great deal of emphasis on local in its search results these days. In fact in many cases, it would appear to significantly reduce the importance of ranking in the regular organic results.
Google talked a little about how local search ranking works today in a blog post on its Lat Long Blog, which included the below video of Google Product Manager Jeremy Sussman discussing the basics.
"Say you're in Union Square in New York City, and you want to find a nearby coffee shop, so you go to Google and type in 'coffee shops in Union Square, NYC'. You'll find a list of just what you typed in – local coffee shops near Union Square with all the basic information you would expect to find, such as name, address, and phone number, and if they exist, you'll also find reviews, ratings, and links to other relevant resources," he explains. "These organic listings are free to both the user and the business. We give you the best results we can find."
"Now, there are a variety of relevance factors Google uses to match or answer your search query, in this case, locating coffee shops near Union Square. Three of the key factors are: relevance, prominence, and distance," he continues. "Relevance is showing you only coffee shops and not unrelated businesses such as retailers, dry cleaners, and so on. Prominence is determined by how well known or prominent certain coffee shops are, based on sources across the web. Distance is easy. We calculate how far each coffee shop is from Union Square. And if you don't specify Union Square in your search, we'll show you coffee shops based on your general location."
Google recently launched Hotp
ot, a social recommendation engine for local search. You can read more about that here. Hotpot listings can show up anywhere business listings show up in Google search results.
"Do the Hotpot ratings and review impact order and ranking of the local businesses you see on Google? Absolutely," says Sussman. "That's the whole point…if you signed in to post ratings and reviews and to receive personalized recommendations in your search results. We do this to deliver more relevant search results and provide a more tailored experience based on your preferences."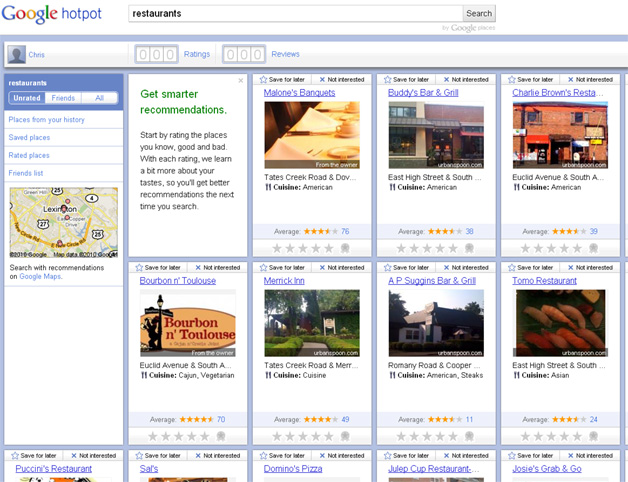 In case you were wondering whether or not claiming a page will influence ranking, Sussman says, "A business claiming a Place Page does not result in preferential treatment. Of course more detailed information about your business helps us do a better job connecting people to the businesses they're searching for."
Finally, he makes it clear that neither Tags nor Boost (a couple of Google's local advertising options) influence local search ranking or where listings appear in Google or Google Maps results. Google does say, however, that the ranking of Boost ads in the 'Ads' section of the Google.com and Google Maps results pages is based on relevance and quality factors.