If you're trying to build momentum for a cause you believe in, many times it takes something creative to cause a stir. Just look at a few of our SOPA related articles. You can add this bit of activist mischief to the annals of creative protest history.
The Rainforest Action Network (RAN) and The New Bottom Line teamed up to launch a blog called, Bankrupting America, trying to raise awareness towards the practices of BoA. Looking through their archive of posts since their launch, nothing was really generating a big response. That was until RAN started a prank which has gone viral.
This happened over the weekend, when RAN created non-adhesive stickers and replaced the BoA ATM screens across San Francisco with their own custom made menu. Creating what they call "Automated Truth Machines". ATM visitors could make selections such as:
Invest in Coal-fired Power Plants
Foreclose on America's Homes
Bankroll Climate Change
Fund Executive Bonuses
Ouch.
They hit over 85 ATM's according to their article, and even provided a custom Google Maps so people could visit the targeted machines.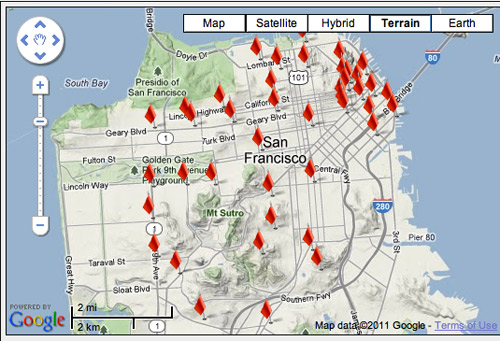 Each sticker featured a link to their tumblr page, which has gotten a huge spike in traffic since the prank. They've updated their article in response to the interest, letting people download high-res PDF versions of the stickers they used. Smartly, they aren't suggesting anyone attempt their prank.