Kim Dotcom Says Mega Is Already Catching Up To Dropbox
By: Zach Walton - January 22, 2013


Mega launched over the weekend to much fanfare. The new file sharing site from Megaupload founder Kim Dotcom already reached over 1 million users within a day, and it's still growing. For now, Dotcom is taking a break from the public eye, but he's still tweeting away all kinds of stats about his new startup.

In a series of tweets from about 10 hours ago, Dotcom announces some early stats for Mega. The biggest surprise is definitely how fast Mega has grown since its launch. We know that the site has over 1 million registered users, but it's obviously higher than that now. Dotcom isn't sharing the exact number, however, because he says he can't believe it.

If I would tell you how many signups we had since the launch you wouldn't believe it. I can't believe it. So, I won't tell you.


Although we can't see how many registered users the site has, we can see that it's growing astronomically thanks to a tweet from Dotcom that compares Mega's traffic to established file sharing service Dropbox.

Alexa stats: Unbelievable growth. #Mega rises and Dropbox drops. http://t.co/ryVoc898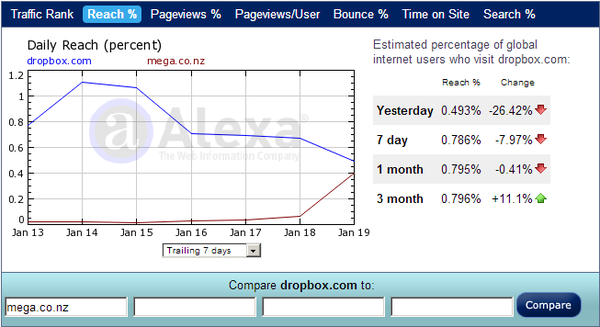 He also tweeted out that Mega is now the largest .co.nz site on the Internet. I'm betting the folks in Gabon were now wishing they let Dotcom keep his original me.ga domain name.
Alexa stats: After just 3 days #Mega is now the biggest .co.nz site in the world. Viva New Zealand! http://t.co/CxTptSpj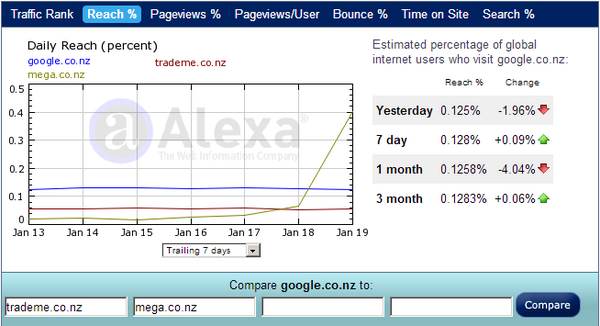 Of course, the launch has not been without some issues. The ever increasing demand for Mega is causing the site to load slowly for some while others are having issues with uploading. Dotcom is aware of the issues and is promising to get everything under control:
The massive global PR around the #Mega launch is simply to big to handle for our start-up. I apologize for poor service quality

We are working 24/7 and expect normal operations within 48 hours. Lesson learned… No fancy launch event for Megabox 😉

We are making good progress. Adding servers & fixing bugs. It should not be long until you can enjoy #Mega without hiccups.

Another issue Dotcom now faces are reports that Mega's much hyped security and encryption are not as protective as he claims. He says that he he will be addressing those issues soon:
There have been a few wrong reports about our encryption & security. Expect a blog post on #Mega later today.

Mega has already proven to be a success, but how long will it last? TorrentFreak reported yesterday that anti-piracy group StopFileLockers is already attempting to shut off Mega's revenue streams. Similar groups are probably exploring their options in regards to Mega as well. Dotcom claims his new site is legal, but the media industry will no doubt find something to complain about.