Update: Zuckerberg posted the following status update on Facebook:
Being named as TIME Person of the Year is a real honor and recognition of how our little team is building something that hundreds of millions of people want to use to make the world more open and connected. I'm happy to be a part of that.
Original Article: Time has named Facebook CEO Mark Zuckerberg its person of the year. "For connecting more than half a billion people and mapping the social relations among them; for creating a new system of exchanging information; and for changing how we all live our lives, Mark Elliot Zuckerberg is TIME's 2010 Person of the Year," the publication proclaims.
It's very interesting to see Zuckerberg get this high honor, as much of Facebook's press over the year has been less than positive. Much of this has been about privacy concerns, but the company has, in all fairness, addressed these repeatedly.
There's no question, however that Facebook has indeed made a huge impact on the web and culture in general in 2010 – more so than in years past. The big open graph announcement and social plug-ins have been huge in shaping the current state of the web as well as the future state. Facebook's just getting started.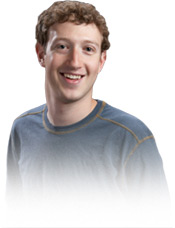 The company looks to become a central hub for messaging, and will continue to expand into payments. Facebook wants to be the centrul hub for you – your identity, and so far, it's doing a pretty good job of progressing towards that goal. How many of you have your phone contacts synced to your friends' Facebook profiles. Of those same friends, how many of them do you know their actual phone numbers?
Then there was The Social Network, the critically acclaimed film destined for numerous awards that paint a complicated picture of Zuckerberg, which the man considers fictitious, but whom audiences have embraced.
2010 has also been a big year for Zuckerberg and charity. Not only did Zuckerberg announce the donation of $100 million to public schools, but just this month he pledged the majority of his wealth to charity. The company has also been sending out Christmas cards with gift cards for donating to the eduacation-related charity of the recipient's choice.
Time has ten pages worth of explanation of why they gave him person of the year. According to CNN, Time's readers chose Wikileaks' Julian Assange.
Do you think Zuckerberg should be person of the year? If not, then who? Comment here.