Next Issue Media, a digital publishing consortium made up of Condé Nast, Hearst, Meredith, News Corp., and Time, has revealed findings from a study on consumer demand for digital newspaper and magazine products. According to the consortium, $3 billion in subscription revenue is expected by 2014.
After accounting for potential cannibalization of some print subscriptions, the industry could realize $1.3 billion in incremental revenue, the consortium says.
The study dealt with about 230 periodical titles and surveyed 1,800 consumers in the U.S. It looked at "likely formats and features of emerging interactive periodicals" and did not take into account advertising, commerce or single copy sales. In other words, we're talking subscriptions only.
"The landscape for digitally distributing magazines and newspapers is about to rapidly change," said Martin Kon, partner and head of the global media and entertainment practice at Oliver Wyman, which conducted the study for Next Issue. "Our Future Marketplace Simulation shows significant consumer enthusiasm for interactive periodicals that offer enhanced features, personalization, multimedia content and optimized layout and navigation."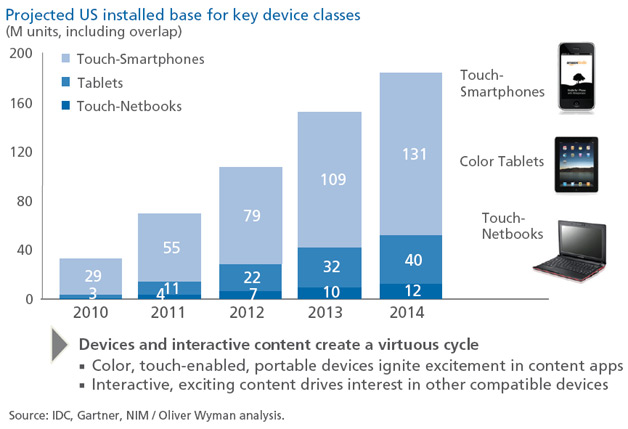 Next Issue lists the following as "key findings that underpin the revenue projections" in the study:
1. Among device-owning subscribers, the availability of interactive editions at the point of renewal, at the same price as today's print editions, drives a 9 point increase in the overall subscription renewal rate, from today's 55% industry average to 64%.
2. Many subscribers perceive print and interactive formats to be complementary; 30% of renewing subscribers choose a bundled print and interactive edition, at a 33% premium to the stand-alone price of either.
3. The interactive format enables effective cross-selling via recommendation engines and browsing features; 17% of current subscribers make additional purchases.

4. Automatic renewals eliminate the traditional "bill-me later" model and greatly reduce churn, from an average of 45% today to 25%.

5. The introduction of interactive editions in an online store setting, at the same price as today's print editions, triples uptake rates among device-owning non-subscribers, from 5% to 15%.
The findings can be perused in a white paper available here (pdf).